Poised Ballerina Photos
Ballerinas exude beauty and grace, not to mention their poised nature in most ballerina photos. This costumed dancer is getting ready to perform, stretching her muscles and preparing herself mentally for the show.
Swan Lake
Most ballerinas are pictured inside, but taking a photo session outdoors can give ballet and ballerinas a whole new look. This dancer, in Swan Lake attire, is in a fitting spot for the photo.
Serious Dancers
Ballet dancers often look quite serious, and this ballerina seems to be getting the hang of that quite young!
Beauty and Strength
Ballerina photos often focus on the grace and beauty of ballet dancers. While this one shows beauty and grace, it also shows the incredibly strong muscles of ballet dancers.
Enjoying Ballet
This ballerina is clearly having lots of fun! While dancing can be serious business, most dancers keep dancing for years and years because they enjoy it so much.
Ballet Grace
Ballerinas are often shown in poses that accentuate their graceful lines. This ballerina is in a position that shows off how elegantly the human body can align itself in wide open space--of course, this takes quite some training!
The Nutcracker
One of the most often photographed props for dancers is the nutcracker doll. Here, a young girl playing the part of Clara cradles her nutcracker doll, showing off her appreciation of it.
Pointe Shoes
For every young ballerina, learning how to tie pointe shoes for the first time is a big milestone! While the shoes may cause some pain, many ballerina photos depict the joy and pride that young ballerinas have when first dancing en pointe.
Modern Ballet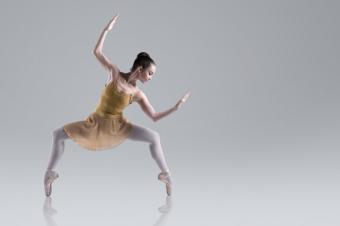 Ballet can be traditional and romantic or bold and beautiful. Modern ballet can take on many new poses and styles of dancing; here a clearly modern ballerina is photographed in a robotic pose.
Endless Stretching
Ballerina photos often show the endless amounts of daily stretching that ballerinas do in order to achieve flexibility and to protect themselves from injury. Ballet stretches like this one are beautiful poses in addition to being functional as flexibility training.