Disco style is undeniably inspired by the 1970s, a decade of flamboyance, release, and exuberance. People used disco as an escape from their humdrum, 9-to-5 job, and the clothes reflected that. With the surge in retro fashion and costume parties, the demand for disco dance clothes is rising. Whether you feel like building your own ensemble or rummaging through vintage stores, there are many ways that you can easily rock the disco dance look.
Women's Disco Dance Outfits
Women's 70s-inspired, disco clothing typically accentuated the female form. If there was free-flowing material in the outfit, it tended to be sheer or translucent to highlight the dancer's body. The following 70s looks for women are undoubtedly fun, feminine, and flirty.
Shiny Leggings Surprise
Shiny everything reigned supreme in 70s disco era fashions. In fact, the more sparkly and maximalistic, the better! Shiny leggings, in particular, were a common choice for disco dancers because they were just as fashionable as they were functional. They allowed the legs to move, but looked fabulous in different hues and when teamed with a sequinned, strapless top.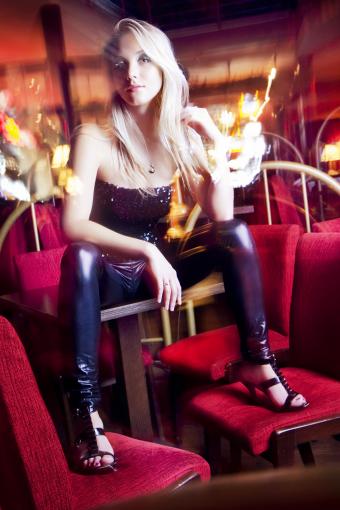 Bell Bottom Everything
Arguably the most loved shape of the 70s, bell bottoms were often channeled in disco outfits through shirt sleeves and pant hems. If you're not a fan of the tight disco outfits, then bell bottoms might just be your new BFF. Tops with bell bottom sleeves were loose and flowy, perhaps with a paisley or geometric print, and pants with bell bottom hems allowed easy movement around the feet. Whichever styles you decide to go for, don't forget to finish this aesthetic off with sturdy platform heels or knee-high boots.
Jumpsuit Fever
The jumpsuit was a super popular piece in the 70s, especially after Diana Ross made it famous in her performances. Whether done in a reflective lamé material or a more comfortable jersey, they were all over the disco scene in a number of styles and shapes. For the ultimate retro look, opt for a jumpsuit that buttons down the front with bell bottom sleeves and a Peter Pan collar. You can even incorporate a wide belt at the waist to flatter your silhouette.
Cute Practicality
If you're planning to dance the night away, nothing could be more practical than a cute leotard. Often reserved for the most daring types, leotards weren't as common as jumpsuits in the 70s; however, they were a great summery, non-conventional alternative to allow the most mobility. Just make sure that yours is shiny in some way.
Short and Sassy
Want to show off your figure? Sometimes women of the 70s wore bikinis or tight tops that barely covered the breasts, and even tighter hot pants or micro mini skirts. However, these weren't the most practical options for dancing. Instead, opt for a bright mini dress with a striking geometric print developed using block colors. This look might be bold, but it's also undeniably chic.
Get Cycling
If hot pants are a little bit too risqué for you, consider cycling shorts instead. These are made from stretchy nylon material so they are perfect for boogeying the night away. They also look aesthetically pleasing and dressy when combined with a metallic gold or silver shirt. To finish off your ensemble, make sure that you rock a 70s-style hairdo. Think: big, flamboyant, and wild, whether this is a feathered wavy style or an out-of-this-world afro. Don't forget to finish off your look with bold disco makeup!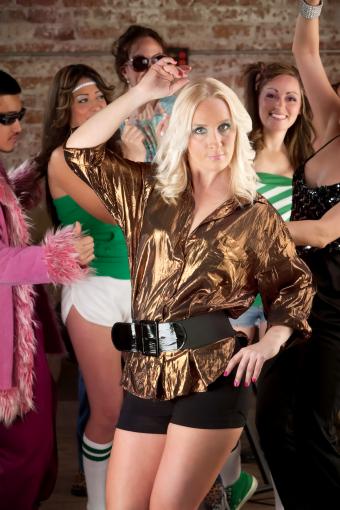 Disco Dance Clothes for Men
Men don't have as many variations of disco dance clothing than women; however, there are some key aesthetics that you can adopt.
Shiny Shirt Show
The epitome of disco dance clothing for men in the 70s was an open-chested shiny, reflective shirt, usually accessorized with 70s jewelry that included one or more gold chains and medallions (a precursor to the "bling" popular with rappers and hip-hop artists). Pants were tight on top, to emphasize the shape of the hips and buttocks, but loose at the ankles in the bell bottom style. If you want to add further pizzazz to your look, opt for a geometric print pant or vivid color scheme.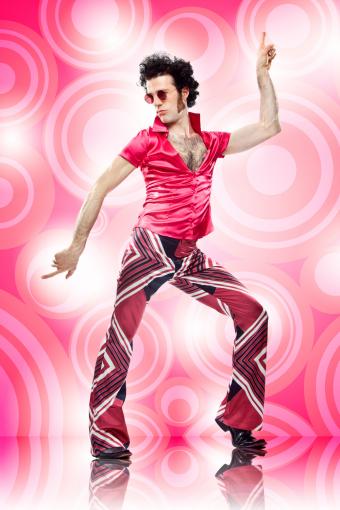 Comfy Cool
If you want to go for a more casual, nerdier aesthetic for your disco dance outfit, you can try a neutral turtleneck sweater with stretchy lamé pants. This can be much more comfortable and cooler for constant moving around. Team your ensemble with socks and soft loafers for a funky, retro look. Don't forget your aviator-shaped sunglasses, which were one of the key accessories of the era.
Sharp and Smart Casual
For a more understated, polished ensemble, you can opt for a long or short sleeved polo shirt tucked into flared pants with brogues. To pull the outfit together, implement a bright-colored waist belt and matching socks. You can also slick your hair back John Travolta-style, as opposed to going for the typical 70s hairdo for men: big and curly. The result is a sharp and sophisticated look.
The John Travolta Suit
Speaking of John Travolta, the ultimate disco dance outfit of the era for men was the white suit and black shirt combo, thanks to the actor's famous Saturday Night Fever movie role. Whether you opt for a two or three piece, make sure that both your jacket lapel and shirt collar is wide and your shirt is unbuttoned and tucked into your pants. Finish off this 70s-inspired ensemble with platform boots and a gold or silver chain to stand out for all the right reasons.
Get Your Freak On
Disco dance outfits can be easy to put together if you know what to aim for. Simply shop around and try on different options to find out what works for you in terms of your personal style and body shape. Remember: disco dancing is carefree and fun, so make sure your outfit is the same!