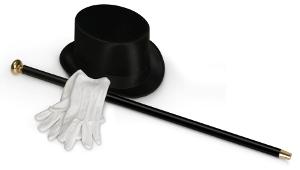 Born in Omaha, Nebraska on May 10th, 1899, to parents Frederic and Johanna Austerlitz, Fred Astaire's biography is as bewitching as the man himself. While his older sister was set to become the family's famous dancer, it is Fred whose name would become a national icon in both the realms of dance and movies.
Fred Astaire's Childhood and Dance Training
In 1905, when Fred was only six years old, hard times fell upon the Austerlitz's family. Frederic Austerlitz, Fred Astaire's father, was a traveling salesman who lost his job at an unfortunate time when unemployment rates were high and opportunity was scarce. At this moment, Fred's parents considered their older daughter's dancing talents to be a possible savior for the family. Adele Marie, 18 months older than Fred, was heralded in the local dance school and on the local stage as a rising star. While both Fred and Adele Marie attended ballet classes at the time, it was with the hope of Adele Marie becoming a star that the Austerlitz family left Nebraska and moved to New York City. The family had nothing to lose by leaving Nebraska, but it turned out that Fred had much to gain in New York.
Once enrolled in a New York ballet school run by Ned Wayburn, Fred's passion for dance began to shine. The dance instructor who taught both Fred and his sister Adele suggested that the two children form a vaudeville talent act. Fred's parents welcomed the idea and the spellbinding young duo lit up the stage with their effortless energy and charisma.
Adele Marie was still considered to be the rising star; however, Fred's talent was also golden. One day, he put on his sister's ballet shoes and walked around on his tiptoes without having received any prior training in it; only female dancers dance en pointe. He recounted the act of walking on his tiptoes as being as simple as could be, which was a sign that he was on a track to stardom. Only the best dancers can make the steps look simple, but Fred Astaire had this ability from a young age.
Music in Motion
Fred Astaire's stage name is a combination of his mother Johanna's maiden name and an aunt's name. Fred and sister Adele Astaire danced to stardom together in their early days, becoming marvels in the entertainment industry. Eventually, Adele married and retired in 1932, leaving Fred Astaire to become a solo act. Fred moved to Hollywood and auditioned for the big screen; however, in 1933 his first original screen test review read: "Can't act. Can't sing. Balding. Can dance a little." Despite this failing first impression, Fred was signed for his first work, Dancing Lady in 1933. The rest, as is often the case in the performing world, is history.
Some called Fred Astaire's magic touch class, while others called it charm. When Fred Astaire tap danced, the whole world watched, enamored with the motion as well as the scintillating rhythms he could make with his feet. The ultimate gentlemanly figure, Fred Astaire was the toast of the American onscreen dancing world.
The Greatest Entertainer
Winning many awards and honors, Fred Astaire branded the top hat and tails as he continued to illuminate the big screen with the likes of Ginger Rogers, Debbie Reynolds, Gene Kelly, and Rita Hayworth. Fred Astaire appeared in the following musical films during his career:
Dancing Lady (1933)
Flying Down to Rio (1933)
The Gay Divorcee (1934)
Roberta (1935)
Top Hat (1935)
Follow the Fleet (1936)
Swing Time (1936)
Shall We Dance (1937)
A Damsel in Distress (1937)
Carefree (1938)
The Story of Vernon and Irene Castle (1939)
Broadway Melody of 1940
Second Chorus (1940)
You'll Never Get Rich (1941)
Holiday Inn (1942)
You Were Never Lovelier (1942)
The Sky's the Limit (1943)
Yolanda and the Thief (1945)
Ziegfeld Follies (1946)
Blue Skies (1946)
Easter Parade (1948)
The Barkleys of Broadway (1949)
Three Little Words (1950)
Let's Dance (1950)
Royal Wedding (1951)
The Belle of New York (1952)
The Band Wagon (1953)
Daddy Long Legs (1955)
Funny Face (1957)
Silk Stockings (1957)
Finian's Rainbow (1968)
That's Entertainment, Part II (1976)
Remembering Fred Astaire
Fred Astaire passed away in 1987 at the age of 88 from pneumonia, leaving behind a son, Fred Jr. and a daughter Ava. At the time of his death, Astaire had remarried to Robyn Smith after his first wife, Phyllis Potter, passed away years earlier. Fred Astaire is buried at Oakwood Memorial Park Cemetery in the city of Chatsworth, California. Endearingly, Fred's last wish was to thank his fans.
A humble man who forever made his mark on the entertainment industry, Fred was quoted when asked about his dancing: "I have no desire to prove anything by it. I never used it as an outlet or as a means of expressing myself. I just dance."
When he danced, moviegoers held their breath and smiled. His fluid movements and his quick-moving feet, paired with an endearing smile and a polished appearance, made him one of the most-loved and best-remembered performers of American dance history.