Basic Leotard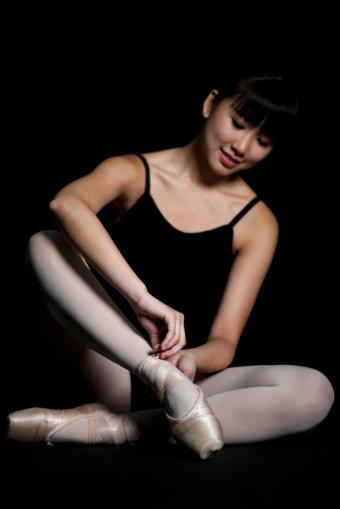 Nowadays a basic black leotard can be found in ballet galleries as a favorite among dancers for practice days. This black camisole leotard is beautiful and simple all at once.
Three-Quarter Sleeves
Another nice style of basic leotard is one that has 3/4 sleeves instead of long sleeves. While many adult women perceive a long-sleeve leotard to be childish, 3/4 sleeves are popular and stylish from the studio to the stage.
Leotard Gallery: Legs
Ballet leotards have a special kind of leg opening that is different from aerobics leotards and gymnastics leotards. The ballet leg is rounded and is at a mid-height on the thigh.
Fancier Leotards
In the past 15 years, ballerinas have expanded their leotard collections to include some new fabrics and styles. The color-blocked leotard with one color on the body and another on the chest became very popular; this leotard uses the same dividing concept, but divides not with color, but with fabric.
Youthful Styles
Children's leotards often have short sleeves or long sleeves (instead of camisole straps), and are most often made of a cotton/polyester blend. The most popular colors for children are pink, black and white; the darker burgundies and hunter greens haven't quite made it to popularity with younger ballerinas.
Detailing
Any leotard gallery created post-1995 should contain some detailing of the newer styles of leotard backs. While a scooped back was the traditional ballet leotard style, modern styles have criss-crossed and otherwise detailed straps that add a special touch to the back of a leotard.
Gathered Front
Much in the same way that leotards have taken on additional details on the back, leotard fronts have gotten updated detailing. Sweetheart necklines and shirring are two popular styles; halter tops also create an interesting line in the front.
Leotards Onstage
While it used to be that leotards were strictly for the studio, and costumes were strictly for the stage, modern leotards have acquired enough detailing to sometimes double as performance attire. A shiny material, paired with a detailed bodice and a strappy back, can take the leotard from the studio to the stage. Of course, adding a skirt over it is also a way to dress it up!
Leotard Coverage
Many leotards destined for the performance world have nude-colored material that covers either the chest, back, or arms. This leotard uses bare material to create the illusion of armbands at the wrists; a similar effect can be achieved with a color band at the neck.
This type of leotard is a performance favorite, especially for dance teams looking for a costume with a big impact, but that is safe to wear for all body types.