A tulle ballet skirt can be a tutu or a full-coverage skirt. There are many types of tulle skirts that have varying levels of poof to them; this is a matter of how many layers of tulle are in the skirt, and how rough or fine the tulle is.
Tulle Ballet Skirt Tutus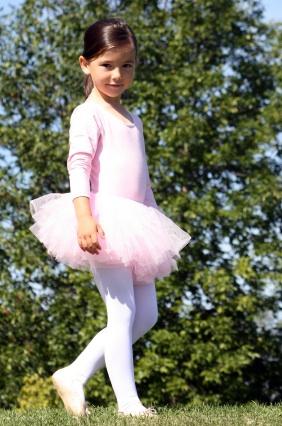 All young ballerinas dream of their first tutu from the moment they first put on their ballet slippers and tights and dream about their favorite famous ballet dancers. Tutus have been an integral part of ballet performance almost since the beginning of ballet; in the history of ballet, tutus are worn for performance only. Of course, that doesn't stop young children from wanting to wear a tutu to ballet class each week! Tutus are also fun Halloween costumes, so even if your daughter is not a ballerina, you might end up with a tutu in the closet after all!
Children's Tutus
A child's tutu is the basic tulle ballet skirt. This type does not stand up as much as the adult version of the tutu, giving the skirt more of a skirt/feminine appearance. The young ballerina pictured here is wearing a typical child's tutu in pink. The tulle netting under the skirt is quite rough, but not the roughest grade of tulle, and there are several layers in a medium-round skirt. This type is generally not considered appropriate for adult dancers, and isn't made by most companies in adult sizes.
Adult Tutus
Standard: Adult tutus are generally different from children's ones in their length and in the degree to which the skirt stands up instead of being a skirt. The adult pictured at the top of this page with her reflection is wearing a standard adult tutu, which is made of stiff tulle layered tightly.
Pancake: Another adult tutu is called the 'pancake' tutu. This tutu is much wider than the standard one and is the beloved costume of many aspiring ballerinas. This is made of the stiffest kind of tulle layered very tightly on the leotard. Pictured here, at left, is a pancake tutu, Swan Lake style.
Ballet Dresses
Tutus are not the only ballet skirts made out of tulle. While tutus are made out of stiff tulle, there is also very soft, fine tulle which is used to make ballet dresses, not to mention bridal gowns, flower girl dresses, and many other types of skirts that require some body underneath the skirt material. The ballet dress worn at right is a long tulle skirt. Other adult ballet skirts can be right below the knee, but have a similar amount of body to them as the long skirt pictured here. This skirt is made by putting layer upon layer of very fine tulle on top of each other.
Purchase Sources
Use the following links to find places to purchase tutus. From high-quality, professional tutus to affordable tutus for less formal performance and perhaps Halloween, these sources are a good place to start.
Caring for A Tutu
Tutus and other ballet skirts require some extra care. Firstly, never throw it in the washing machine or the dryer. In order to get the tulle fabric straight and flowing, you can use a warm iron on the skirt by placing a towel between the iron and the tulle. When ironing, only iron the tulle part of the skirt, not the top layer (unless the instructions said that ironing it was possible); many top layers have delicate ornaments that can be damaged by heat. Lastly, don't squish the tutu either by storing it between other bulky items or by sitting on it. If you have to sit with your tutu on, pull your skirt up before you sit down. It may sound unladylike at first, but that's why the leotard is there…and if you're with other dancers, you'll be in good company, because they'll be doing the same!