Finding Swing Dance Clothes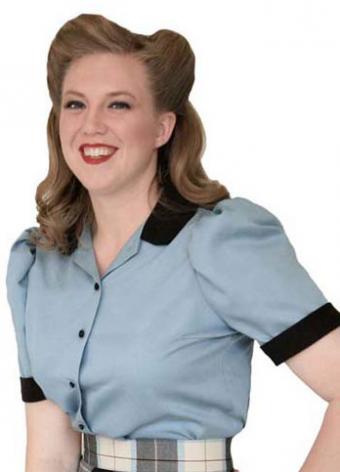 Swing dance clothes are as much fun to shop for as they are to dance in. Many dance clubs will recommend comfortable clothing for classes and even socials, but part of the charm is capturing the nostalgic history of the dance. Fortunately, you can combine the vintage look with flexibility and ease of movement when choosing pieces for swing dancing.
Women's Tops
For women, the right kind of top will make all the difference in how you move on the dance floor. Traditional looks include button front, short-sleeved blouses and fitted tops with vintage accents. If the top has sleeves, be certain that they are wide enough to allow for lots of movement or that there is a gusset under the arm. Try one of these styles:
Button-front blouse - A button-front blouse with Peter Pan collar in slate blue viscose rayon gabardine is a great take on a traditional look. Available from Revamp Vintage for about $135, it comes in sizes XS-XL or can be made to measure.
Knit top - This ballet style knit top features a three-quarter sleeve, sweetheart neckline, and shoulder pleats. Get it from eShakti for under $50 in sizes XS-6X. It comes in white and a stripe pattern and has customizable options so you can get the fit you want.
Cotton top - Another great option is this capped-sleeve, sexy v-neck top from Unique Vintage. It features a keyhole opening in the front with a pretty tie accent. Priced at just over $30, it comes in sizes S-4X and in your choice of red, green, or black cotton.
Dresses, Skirts, and Pants
For dresses and skirts, knee-length or just a bit longer work best for mobility and modesty, and A-line styles will give you the swing movement you want. All pieces should fit loosely in the hip area. Look for fabrics that include spandex or lycra for flexibility. Options include:
Swing dress - From Unique Vintage comes the Trixie Dress in deep teal green. Priced at just over $70 in sizes S-4X, this dress features a gathered sweetheart bodice, half-sleeves, a natural waist, and a full circle skirt which is perfect for swing dancing. The stretch bengaline fabric offers plenty of give.
Print dress - Polka-dots are always on point and this vintage style red taffeta with black polka dot dress is adorable with a flattering sweetheart neckline, puffed sleeves, a keyhole cutout in the back, and the perfect knee length. Available at Plasticland for about $85 in sizes S-XL, this dress will pair perfectly with a petticoat for added style and swing.
Skirt - The Just This Sway Skirt in navy is a fabulous base skirt with great movement and an ideal length for swing. From Modcloth for around $50, it comes in sizes XS-4X. This is a great basic piece that can be jazzed up with a pretty top and fabulous shoes.
Pants - Swing pants are a great alternative to dresses and skirts. With wide legs and plenty of room to move, these black slacks from Revamp Vintage are priced at about $100 in sizes from XS-6X, and can also be made to order for the best fit.
Women's Undergarments
Swing dancing includes fast movement, lifting, and flipping. Dresses and skirts will be flying, so consider wearing dance trunks, stockings, or even bike shorts underneath for coverage. Petticoats and slips can add a vintage touch and extra movement as well.
Petticoats - Tulle, tulle netting, or crinoline petticoats will add volume to your dress or skirt. Select a contrasting color to add a visual pop with each turn or flip. Lightinthebox.com has three-tier retro petticoats in sizes M-XL for under $25 in red, black, and white.
Slips - If you don't want to go the route of a fuller petticoat or crinoline, Amazon has a nicely styled slip in white, black, or ivory that has a vintage look. Pair it with a skirt that comes just to the lace edging to let a little bit of the slip show at the bottom. Pick it up for about $15 to $30, depending on size and length, available in sizes 34-46 and 24-28" lengths.
Dance trunks - Basic dance trunks provide coverage and offer plenty of support and comfort. Dancewear Solutions offers a matte spandex dance trunk in five colors, with sizes from S-XL for under $10 a pair.
Stockings - Seamed stockings are a great inclusion in your swing wardrobe as they are easy to move in and give a polished, vintage look. Stockings HQ offers a nice selection of seamed tights in a variety of styles and patterns, ranging in price from about $7 to $20.
Men's Basics
While men don't have to fuss with dresses, skirts, and fancy undergarments, there are still several items that guys will want to include in their swing dance wardrobe. All pieces should be loose and comfortable with plenty of room for movement. Try these options for men's swing dance staples:
Dress shirts -Button-down shirts lend great style for dancing. Try this Paul Fredrick 2-Ply Cotton Satin Grid Button-Down Collar Dress Shirt for around $40. With sizes from 14.5/32" to 19/36" it is easy to find one that will allow for big dance moves.
Slacks - Mens USA Single Deep Pleat-Wide Leg pants are a great basic for men. They retail for about $100 and are available in 11 solid colors. These slack come in sizes from 30" all the way up to 56" and offer a wide leg style that won't restrict movement on the dance floor.
Zoot suits - The Siegel's® Tonal Stripe Vested Suit comes with jacket, vest, and slacks that can be worn together or as separates. Choose from nine colors ranging from black to sapphire, for about $200. Jackets and vests are available in chest measurements from 38" to 62" and slacks in waist sizes from 30" to 50". They also provide custom sizing and special orders.
Accessories for Swing Dance
One way to make your personality sparkle is through accessorizing. Hats, jewelry, ties, and suspenders are great ways to add a little something extra.
Women's Accessories
Classic pearls and fashionable hats put the finishing touches on your swing dance outfit. Try one of these fun accessories: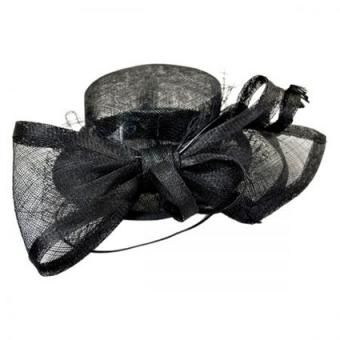 Ladies hats - Choose a hat that will fit snugly on your head. Available from Charming Charlie, this fetching beret is fun look for your outfit in blue or white for about $15. Another great option with a vintage feel is this felt bow hat from Kakyco for just about $90. You can get this style in modena or pecan.
Fascinators - Fascinators can range from a big bold bow to a tiny replica hat that sits at the top of your head. They are held in place by pins or bands. The Village Hat Shop offers some great options such as this mini top hat in black lace for under $40, or this Dotty headband with burgundy ruffles for about $25.
Pearls - Pearls, whether real or costume, are always in style. Lauren Ralph Lauren offers this 18" strand of faux pearls for around $40.
Men's Accessories
Add a punch of color and whimsy to a basic dance outfit with a patterned tie, funky suspenders, and a great hat. The following are all great options:
Ties - Zazzle.com has fabulous ties for men in funky colors and great swing dance themes. They range from about $30 to $45 each.
Suspenders - The Suspender Store offers a wide selection of fun colors, styles, and fabrics. Choose a bold print or bright color to make your ensemble pop. Just remember, it's always just suspenders or just a belt since both hold up the pants. Prices from about $15.
Men's hats - Nordstrom offers one of the most complete lines of hats around for men. From classic fedoras (about $15 to $375 depending on style) to newsboy caps (around $20-125), there is an excellent selection here. Choose a hat that will go with the style of your outfit, and that will stay on your head while you move.
Shoes for Men and Women
The single most important component of your swing dance wardrobe is your shoes. As so much of the style requires the sliding or gliding of feet along the floor, having a smooth bottomed shoe is essential. Casual participants will often favor old-style plimsoll shoes that have worn, flat soles with a canvas upper. Flats or brogues with a smooth bottom or dress shoes with a low heel are also good choices. For example:
Plimsolls and sneakers - For women, these shiny plimsolls from ASOS are fun and functional in goes-with-everything white. They're available for under $25. For men, SeaVees canvas sneakers come in a variety of neutral shades and retail for about $30-100 depending on size. They're available in sizes 7-13. Both are flexible, soft-bottomed shoes that will give you the glide you need without sticking to the floor.
DanceSocks - If you'd rather keep expenses down and use a pair of your existing shoes, check out The DanceSocks for around $10 for 2 pairs. This one-size-fits-all product slips over the top of your shoes to create a smooth surface on the sole. These are a good option for those just starting swing lessons as they will keep your initial investment down.
Dress shoes - Lightinthebox.com has a nice selection of classic shoe styles for both women and men. For ladies, a good swing shoe is this modern dance shoe with a 40's feel. It retails for about $40, comes in beige, and you can customize the height of the heel. It comes in sizes 5 to 11. For men, the Latin ballroom shoe with its oxford styling in black or brown and white is a stylish option. Pick these up in sizes 6.5 to 13.5 for about $45.
Boots will often be too heavy and sports shoes, particularly those for basketball, tennis, or racquetball which are designed to grip the floor, can be dangerous and cause knee and ankle issues. Whatever shoe you select, ensure that you have a full range of movement, they are comfortable, and do not rub.
Thrift Shop Treasure Hunts
Many people prefer to put together their own outfits from pieces located in thrift and consignment shops. This can also be a more economical way of finding the perfect ensemble.
Look Carefully Before You Buy
Here are a couple of suggestions to keep in mind when you are looking for gently used clothing.
Check the seams on the garments, looking for double-stitching for durability. Dancing can cause a lot of wear on clothing, so you'll want sturdy pieces.
Evaluate the fabric. Satin, taffeta, and anything sequined may look great on the hanger, but may not be practical for dancing. Make sure there's some give.
Try each piece of clothing on to make sure there is enough room to move in.
Thrift and consignment stores are also excellent places to find unique accessories. You can often find great shoes too, but look carefully at the bottoms and check the stitching. If you do find that perfect shoe but it has weak seams or not the right type of sole, seek out a reputable shoemaker who can bring them up to where you need them to be.
Dancing in Style
Try out a number of different styles and designs to find your perfect outfit for swing dancing. You'll feel comfortable and confident in clothing that gives you freedom of movement while looking stylish at the same time.